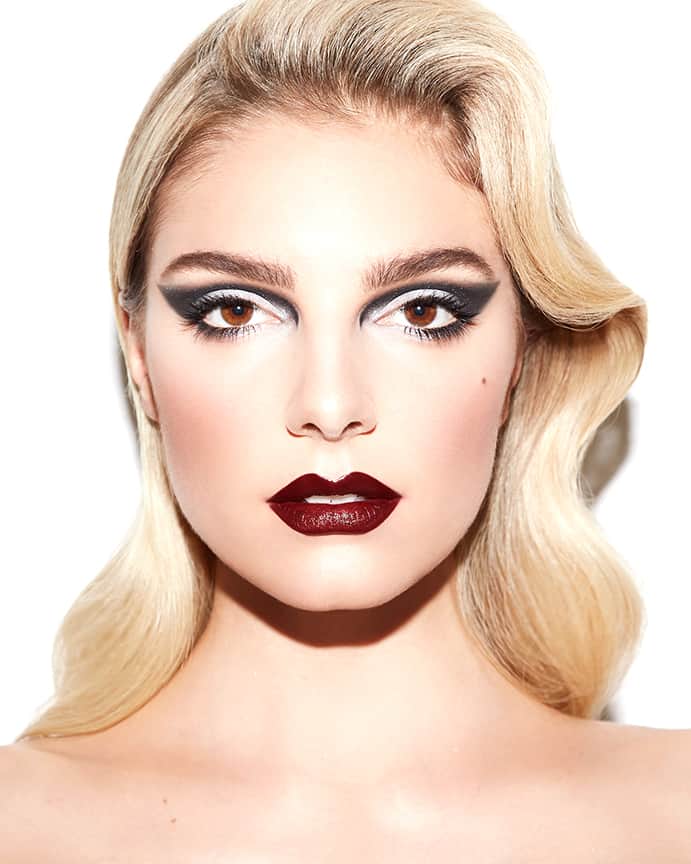 If you are passionate about makeup or fragrance, then the name Serge Lutens should be familiar to you. Serge is a legendary makeup artist, perfumer, photographer, creative director, designer and all around creative genius. Starting at French Vogue in the early 60's as a makeup artist, he went on to develop Dior's makeup line as well as their branding and images. In 1980, he moved to Shiseido where he designed makeup, packaging, and photographed award winning advertisements. While at Shisedo, Serge was commissioned to create two fragrances, Nombre Noir and the iconic Féminité du Bois. He then launched one of the most beautiful boutiques in all of Paris, Les Salons du Palais Royal, as a luxury perfume house for his own scents.
His exclusive makeup line is very much a companion to his fragrances. The formulas are unique, the pigment is incredible and the colors are exquisite. For the above look, I took cues from his precise graphic shapes but softened it up to create "wearable drama".
Note: To read about Serge Lutens in more detail, click here. Also worth a Google, his amazing makeup books!
Note: Click here to read about my visit to the gorgeous Palais Royal boutique with lovely illustrations by Regina Yazdi, part of our beauty shopping in Paris guide!
MODEL // Malie
MAKEUP // Robin Black
HAIR // Sheridan Ward