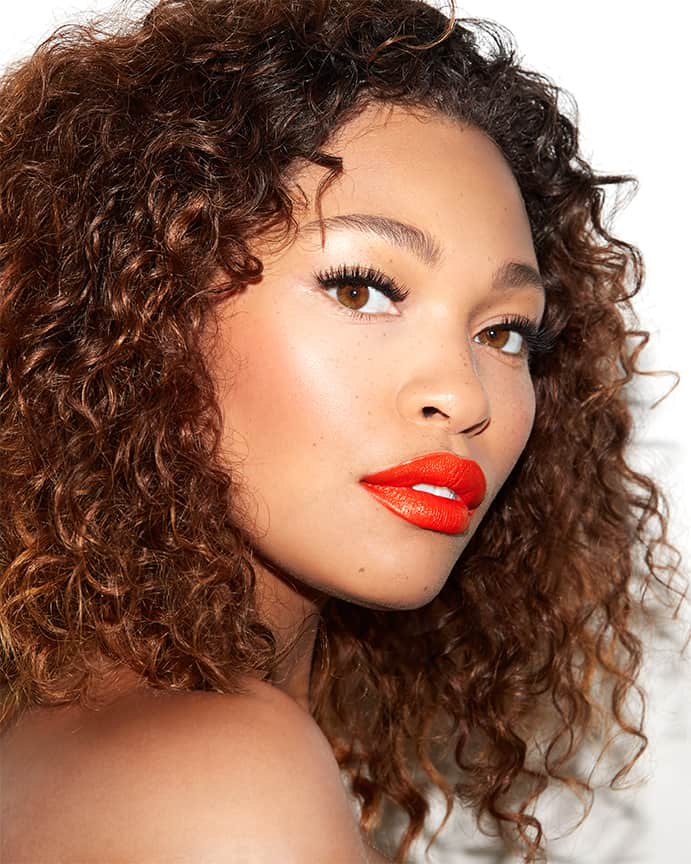 I have been crazy for red-orange lipsticks ever since I tried on my first, NARS Heatwave. It's been well over a decade since I bought that first tube and the Heatwave is still one of my summer staples. In my quest for the perfect red-orange or perhaps orange-red, I discovered Tom Ford Lip Color in Flame. In certain lights it looks like a bright red but add a camera flash or sunlight and the gorgeous orange undertone shines through. It's a true statement color so you don't need much else with it.
For this look I paired Flame with glowing skin, lightly groomed brows and thick faux lashes. It's the perfect look for a summer night out – striking and simple but with a nod to old Hollywood glamour.
Note: Amber's skin is ridiculously perfect. I barely touched it because I wanted her charming freckles to shine so I just used a tiny bit of Koh Gen Do Maifanshi Foundation mixed with Sisley's fabulous new Black Rose Skin Infusion Cream (if you haven't tried this, do so immediately!).
Note: I layered two sets of the Velour lashes to create some fluffy drama, then coated them with mascara.
MODEL // Amber Lauren Jones
MAKEUP // Robin Black