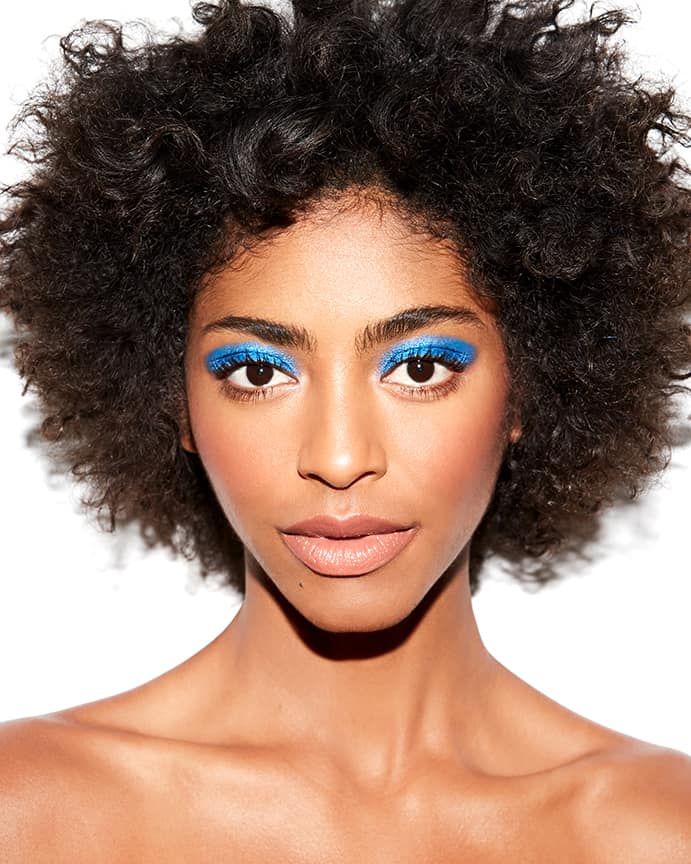 Back in the studio today with the lovely Jessi M'Bengue! Jessi is a model but also a songwriter / spoken word artist. She is currently working on her first singer songwriter project with composer Andrew Hale (from Sade). I asked her a few questions about makeup (I always ask because it's interesting to hear different views on beauty, favorite products, etc) and she mentioned that makeup artists rarely use bright colors on her. That immediately made me want to play with color because Jessi's complexion is an ideal canvas for a whole rainbow of shades.
I am still playing with new Shu Uemura and the perfect lagoon blue on her eyelids is from their limited edition collection with Ambush. It's a liquid eye foil that you can smudge on with your fingers, the wand applicator or in this case, a brush. I layered several coats to get the intense color. I kept the rest of her face natural with just a touch of blush (the new NARS liquid formula!) and a pinky nude lip.
Note: Jessi, who has a charming French accent with just a touch of proper Londoner, told me the sweetest story about her parents. Her Algerian mother and Ivorian-Senegalese father met while breakdancing in Paris!
Note: You can see / hear some of Jessi's music here:
Behind the scenes
Jessi x Andy Madeleine
Purpose
MODEL // Jessi M'Bengue
MAKEUP // Robin Black