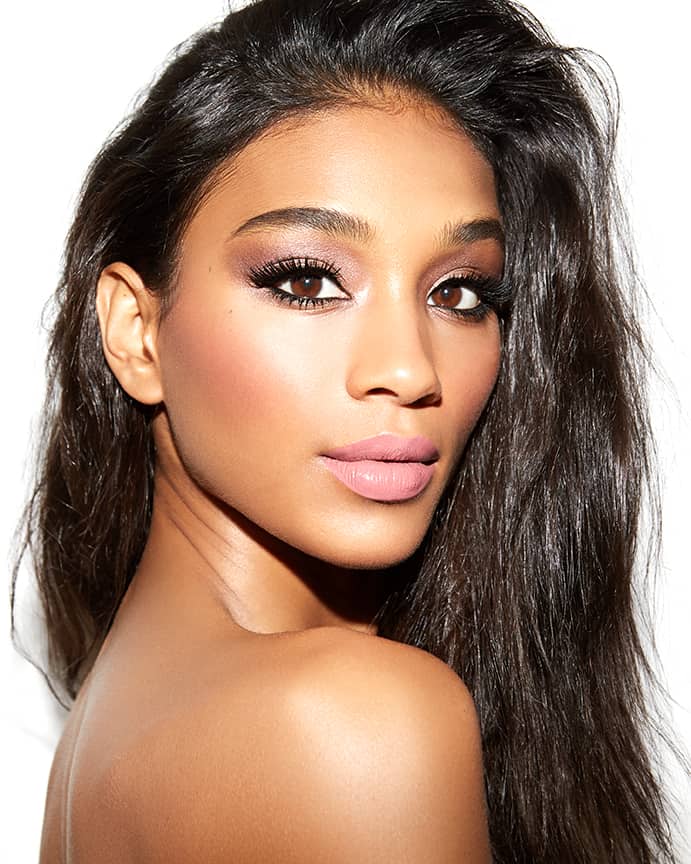 Day three of the four Urban Decay looks I will be posting this week!
One of the things I love about showing the same lipstick shade on four totally different complexions is that you get to see how it shifts based on lip color and skin tone. Vice Lipstick in Backtalk is definitely opaque but still looks totally different on each of our four models. On the gorgeous Lisa-Marie, the cool undertone really pops and gives it almost a 60's vibe. I was tempted to do a classic 60's eye look but couldn't resist playing up her amazing almond eye shape with black inner rim liner and a thick fringe of lashes. The eyeshadow is from the classic Naked Palette and I used one shade all around the eye for a subtle, shimmering look.
Note: During our shoot, Lisa-Marie gave me a preview of her upcoming music… mind blown! She is so talented! She is also incredibly humble and shy about it so I was honored I got to listen.  Follow her on Instagram to keep up with her modeling and hopefully get a music sample in the near future!
Stay tuned for our final Urban Decay look, going live tomorrow evening!
MODEL // Lisa-Marie
MAKEUP // Robin Black
HAIR // Michael Duenas