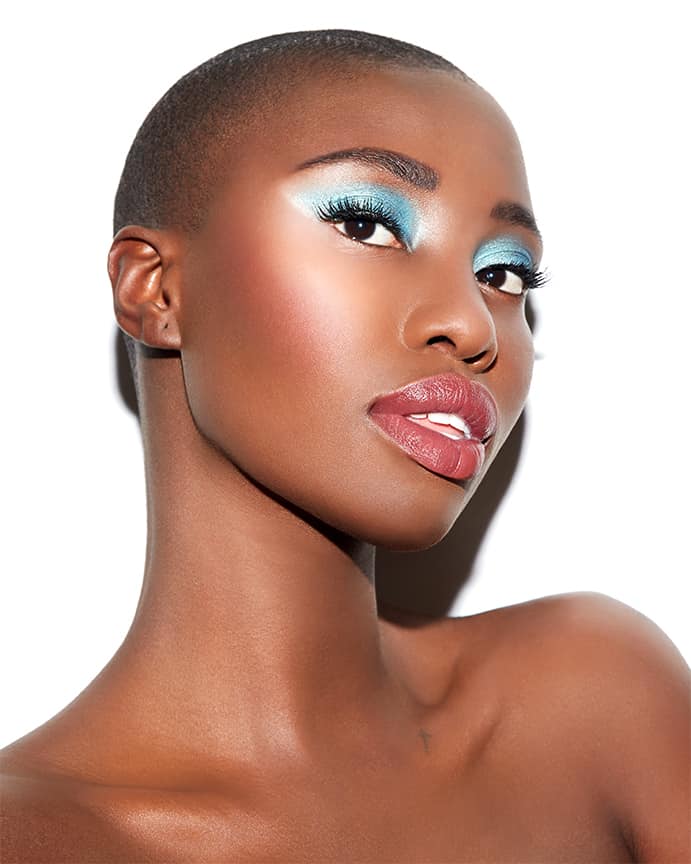 So when I was downloading these photos of the stunning Giannina Oteto, I realized that I went totally mad with the highlighter and applied at least five coats around her eye/cheekbone. However Giannina's skin color and texture make pretty much everything look amazing. Which is one of the many reasons she is so fantastic to shoot – the others include things like: She is charming, shy and ferocious all at the same time. The camera loves her. She is always willing to try something new. And even after a few drinks, she can sit perfectly still in the makeup chair.
In the past I've shot Giannina in minimal, editorial styles (you can see our previous looks by clicking here and here) so for variety, I decided to do a very pretty and somewhat more classic spring look using several of the latest NARS colors. Well it started more classic and then some disco inspiration snuck in and the eyes got a bit more dramatic. Recently my life has been filled with disco imagery because Nick is editing "Antonio Lopez 1970, Sex Fashion & Disco" – an incredible documentary directed by James Crump. Click here for a taste of the amazing 1970's  film footage and photos that have been floating around our creative space for the past six months. It's impossible not to be inspired!
Note: I deliberately applied the NARS Numéro 3 Eyelashes slightly above Giannina's natural lash line, leaving a tiny bit of space in between. I filled in that space with black liner to create the look of a fluffy, "lifted" lash.
Note: This is a little off topic but I recently discovered one of the most influential makeup artists of the 70's is on Instagram! You can check out Corey Tippin's account by clicking here.
MODEL // Giannina Oteto
MAKEUP // Robin Black