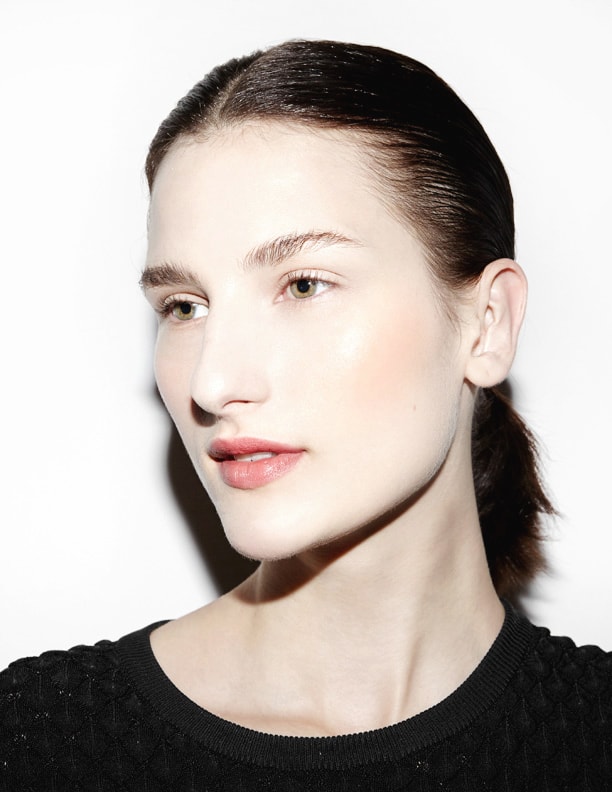 I've been getting lots of requests for a product list and details from the Mugler Resort 2015 presentation so here is a full look breakdown from the backstage at Milk Studios in NYC. All products by Clarins!
It is important to start with a completely clean face so I began by gently pattin each model's skin with organic cotton pads saturated in the Water Purify One-Step Cleanser. Then I used a light tapping motion with my fingertips to apply the Toning Lotion with Camomile. After that, I gently pressed on a tiny bit of the Double Serum followed by the Multi Active Day Correction Cream. Finally, I applied the Super Restorative Total Eye Concentrate to the tips of my fingers and starting at the inside of the eyes, pressed gently from the inside corner of the eyes to the temples.
With the skin prepped, I created a palette on the back of my left hand with small amounts of Double Serum, Skin Illusion Foundation and Instant Concealer in several shades. Using a foundation brush, I painted on the various products, mixing the foundation and concealer with the Double Serum to make them more sheer. I concentrated the paler colors on the high points of the face and the deeper colors as contour. Then I blended them together. This might seem more difficult than just applying a single shade but the results are worth it and it's surprisingly easy to do at home!
To give the effect of light reflecting on the center of the face, I dabbed the Instant Light Brush On Perfector under the eyes and on the brow bones. I then applied the Instant Light Complexion Base on the top of the cheekbones, down the center of the face and on the peak above the lips.
Using the Multi-Blush Cream Blush in Grenadine (it looks bright in the package but the color is amazing on most complexions!), I painted it on the apples of the cheeks and then blended toward the temples to create a lifted face shape. Without adding any additional product to the brush, I blended both temples for a healthy flush.
Brows were groomed upward and secured into place with the Double Fix Mascara. I also brushed a coat of Double Fix Mascara onto the eye lashes and then curled them to open up the eye. This step makes going sans mascara easier and prettier!
For the final touch, I applied Rouge Eclat in Woodrose and gently pressed it into the model's lips using my finger. I applied a light second coat and then blotted the corners of the lips to reduce excess shine gathering in that area.
Note: Model, Katia Selinger. Hair by Charlie Taylor.
---
PRODUCTS // Clarins Water Purify One-Step Cleanser, Clarins Toning Lotion with Camomile, Clarins Double Serum, Clarins Multi Active Day Correction Cream, Clarins Super Restorative Total Eye Concentrate, Clarins Skin Illusion Foundation, Clarins Instant Concealer, Clarins Instant Light Brush-On Perfector in 03 Medium Beige, Clarins Instant Light Complexion Base, Clarins Multi-Blush Cream Blush in Grenadine, Clarins Double Fix Mascara, Clarins Rouge Eclat in Woodrose
MODEL // Katie Selinger
HAIR // Charlie Taylor