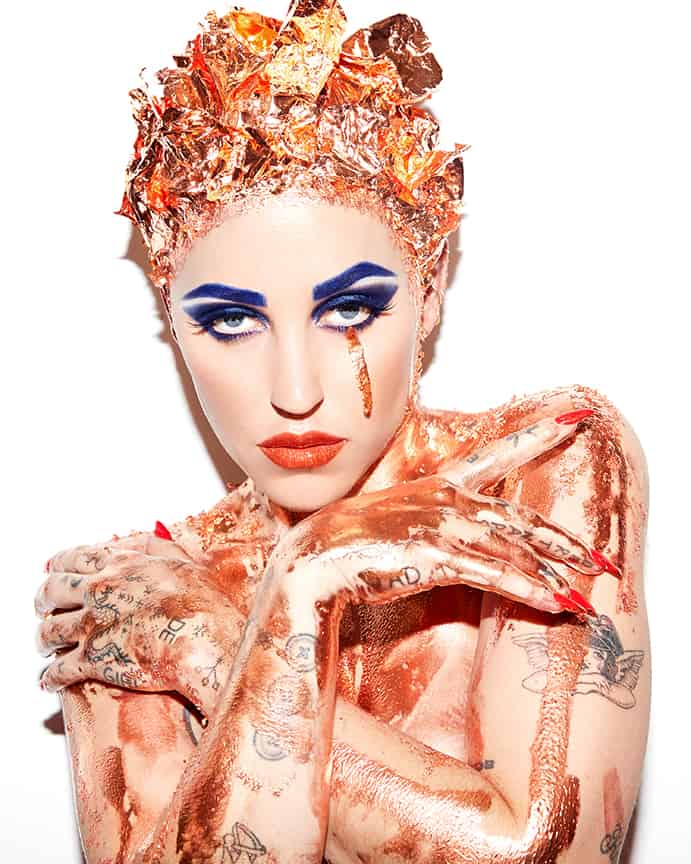 Just a casual look with the notorious Brooke Candy … OK so it's not that casual but this is what happens when Ryan (genius!) shows up with craft store copper foil and suggests that it might be fun to add it to Brooke's hair. Then the next thing you know, I am inexplicably reaching for a midnight blue pencil because obviously blue brows are the first thing that jumps to mind when the hair is covered in copper foil.  The blue brows were followed by shimmering deep blue shadow and the most perfect copper lip thanks to Smashbox's Be Legendary Liquid Lip in Haterade. Moments later, I was digging into my drawer of metallic powders (yes, I have an actual drawer just for metallic powders), mixing up this gorgeous copper goop and liberally pouring it all over Brooke.
It's really rather impossible to explain the creative thought process that went into this look because it was more of a flow of inspiration. And that is the amazing thing about working with Brooke. She is not only a strong creative collaborator but is also willing to try anything – even when it involves copper foil stuck to her hair and metallic liquid dripping down her torso.
Note: Sadly the Tom Ford Cream and Powder Eye Color used for this look was part of a limited edition collection several seasons ago and is no longer available for sale.  However he has new shades available for this season!
Note: If you haven't already discovered it, Brooke's tumblr is definitely worth a visit. She captures personal images of her adventures with a 35mm film camera and updates the page frequently. Click here!
MODEL // Brooke Candy
MAKEUP // Robin Black
HAIR // Ryan Tanaguchi