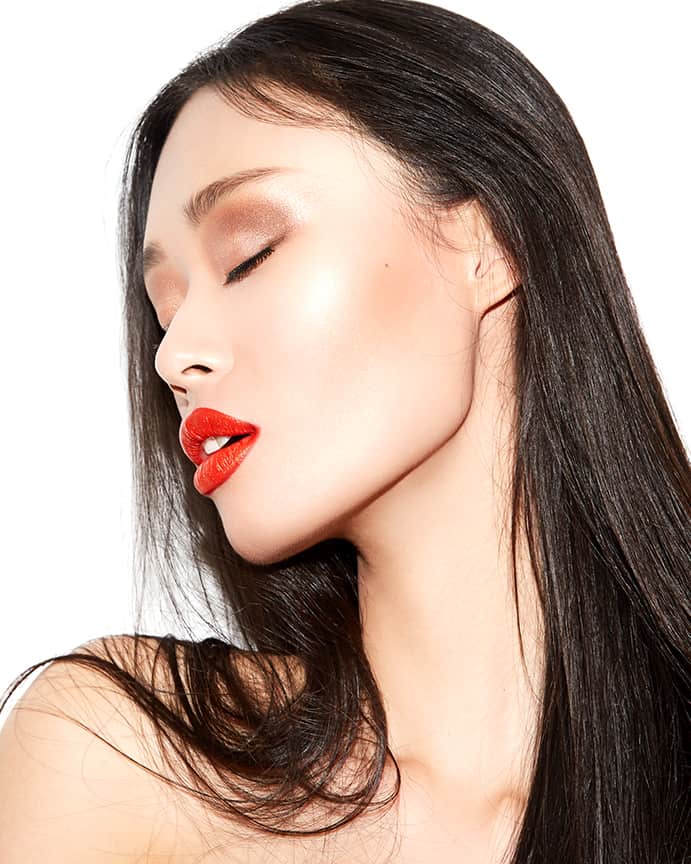 I have mixed feelings about the highlighter craze that has swept the beauty world for the past few years. Just like most pro artists, I have always added light to the high points of the face (usually with a moisturizer, serum or very sheer shimmering cream) but the heavy application of metallic pigments is a whole new thing.
My first experience with highlighter was watching Laura Mercier. Laura would tap her wonderful serum called Secret Finish (which has since been discontinued to the dismay of pro's everywhere) on top of cheekbones, over the peak of the lips, on the browbone and ridge of the nose to give the skin a youthful glow. This was  meant to bring light to the face and break up the look of heavy makeup. It's one of my favorite techniques and you can see it in most of the Beauty Is Boring looks.
The new highlighting trend (not really new since it's been around for a few years now), focuses more on adding shimmery, metallic powder with distinct colors to the high points of the face plus the tip of the nose. While it looks interesting on Instagram (with a tilted head angle, a few filters and some Facetune), I find it bizarre in daylight. Bizarre isn't necessarily a bad thing, I am actually a bit fascinated by women walking around in what I have started calling "android chic" – shiny metal streaks proudly displayed on their cheekbones.
In the look above, I tested one of the more unique and popular new highlighters, the Farsali Jelly Beam Illuminator. It has a strange, pudding-like texture and transforms from a cream to a powder in a matter of seconds. The glow it gives is rather muted in regular lighting but when you hit it with a flash, it looks like wet, molten gold.
What do you think about metallic highlighters?
Note: Everyone should wear their makeup in whatever style makes them happy however, I really don't understand the sparkling tip of the nose thing? I had a well known influencer explain to me why she likes it but I am still confused?
MODEL // Meng Meng
MAKEUP // Robin Black