---
PARIS IS ARGUABLY THE BEST CITY IN THE WORLD TO FIND ONESELF WITH A WHOLE DAY FREE. SO WHEN REGINA AND I HAPPENED TO BOTH BE IN PARIS WITH AN ENTIRE DAY OF DOWNTIME, WE DID THE ONLY LOGICAL THING AND SET OUT TO VISIT SOME OF OUR FAVORITE BEAUTY BOUTIQUES.  Words by Robin Black. Illustrations by Regina Yazdi.
---
At this point, you are probably expecting the usual story about French pharmacy discoveries and with just cause. French pharmacies are treasure troves filled with cult beauty favorites and classic essentials. However, this story is about two very particular beauty experts and the very special Parisian boutiques that are on our personal "must visit" lists.
If you haven't encountered either of us (or our work) before, I spent over a decade as a professional makeup artist before adding beauty photographer and founder of Beauty Is Boring to my resume. Regina is a fine artist who creates gorgeous illustrations for beauty, fashion and jewelry brands as well as top publications. We share a mutual love for all things beauty and when we are not working, you can often find us in the studio testing new products.
Back to Paris… We started the day with the most delicious croissants and a conversation about whether my Celines would hold up should the questionable looking skies turn into rain. Practical matters (food and shoes) taken care of, we headed to our first shopping destination.
---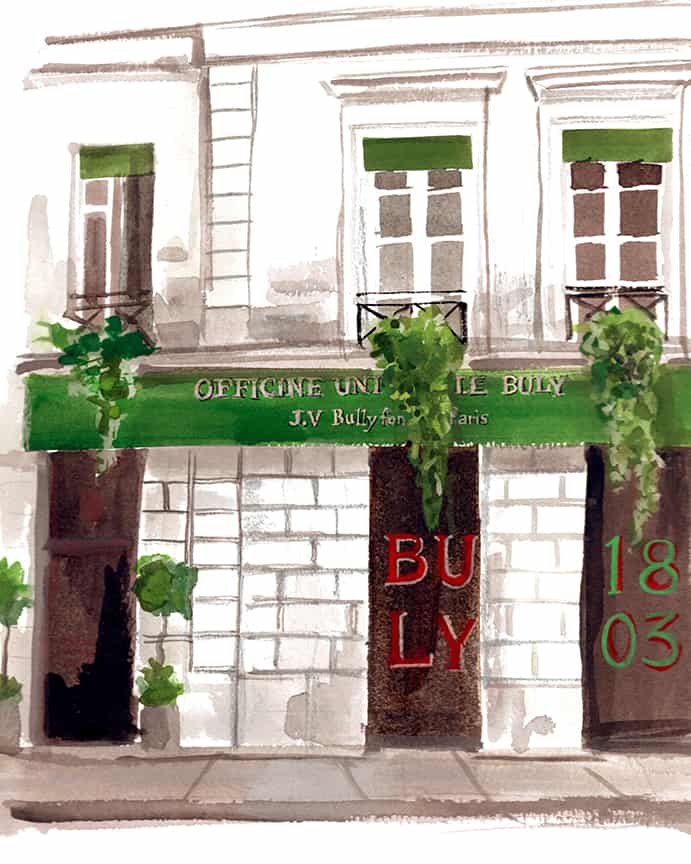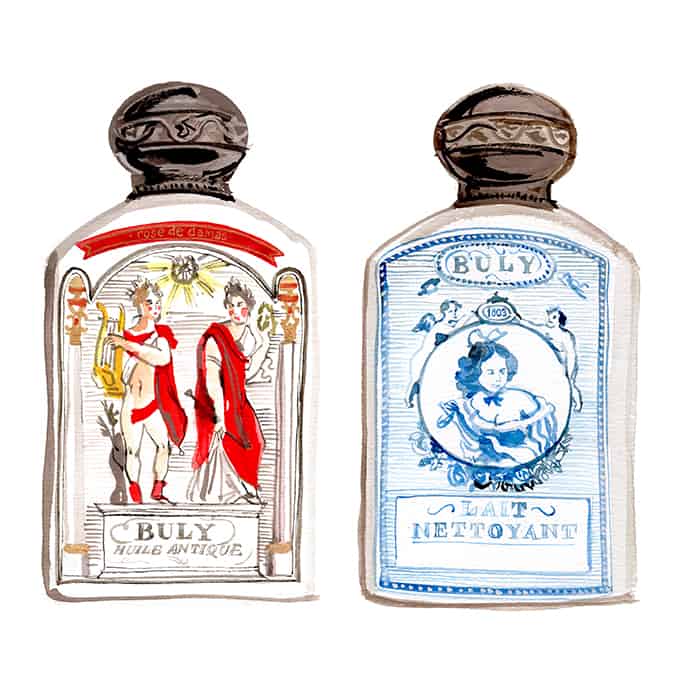 OFFICINE UNIVERSELLE
BULY 1803
6 rue Bonaparte
75006 Paris
Instagram
Website
The History: Originally created by Jean-Vincent Bully in 1803, the brand and shop were resurrected over 200 years later by Victoire and Ramdane Touhami.
The Boutique: Buly 1803 is unlike any other beauty shop in the world. The interior transports you back in time to a simple luxury that is missing from most modern brands. The walls are covered with wooden shelves filled with glass jars of powdered clay, herbs, dried flowers and other mysterious beauty aids. Countertops and drawers display beautifully illustrated tubes of hand cream, toothpaste, moisturizer and more. Glass bottles covered in hand drawn designs hold perfumes, face lotions, cleansers and body oils, all paraben, phenoxyethanol and silicone free. The impeccably groomed staff (who wear neat uniforms and lovely chignons) make excellent recommendations and best of all, they personalize each bag and box in flowing calligraphy.
What to Buy: You really can't go wrong at Buly, everything is a treasure so set aside plenty of time to go through each case. However, among our personal favorites are the Lait Nettoyant, Pommade concrète, Huile Antique in Damask Rose, L'Alabastron in Généraux D'Empire and Rose Petals Powder. Also not to be missed, are the signature Buly 1803 hair combs. I found a perfectly sized "bang" comb which I now can't live without. Regina loves the water-based perfumes, great for those who are sensitive to the alcohol typically used in fragrances. She also found a translucent, slightly iridescent orchid shade of their Vernis Universal (nail polish) that is utterly unique.
Moving on… After Buly, we headed across the Seine and toward the Palais-Royal to stop at a beauty destination that I first visited in the late nineties.
---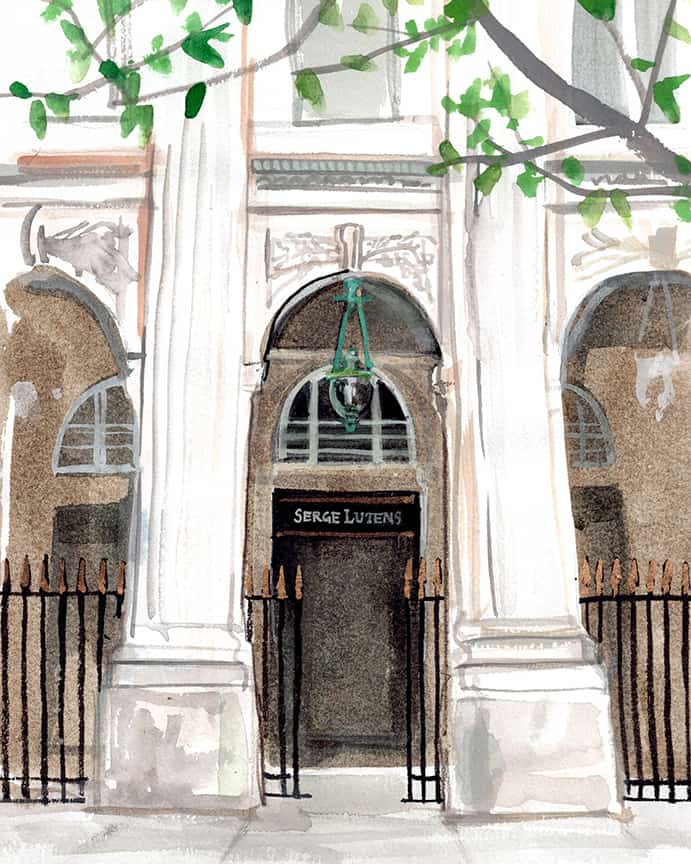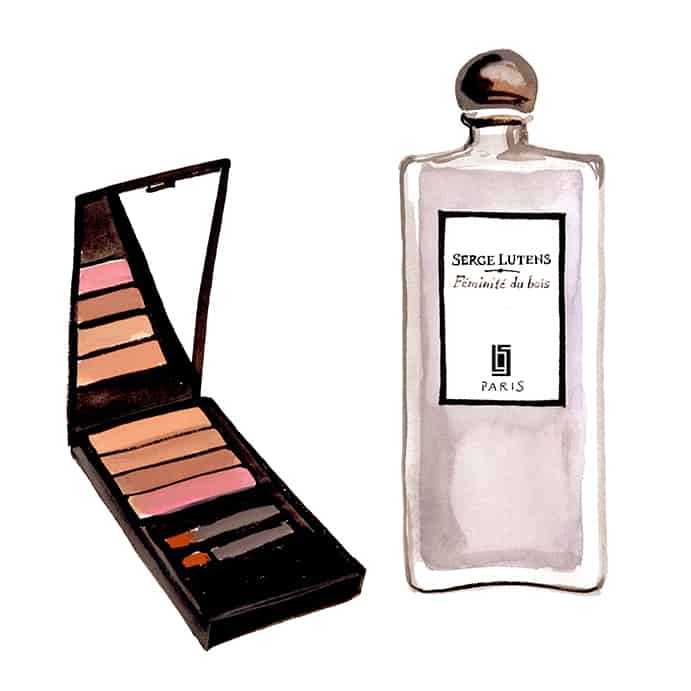 PALAIS ROYAL
SERGE LUTENS
142 GALERIE DE VALOIS
75001, Paris
Instagram
Website
The History: "Les Salons du Palais Royal" opened in 1992 to house the creations of brilliant perfumer, photographer and makeup artist Serge Lutens.
The Boutique: The shop has a "secret society" vibe that is irresistible and of course, as a makeup artist and photographer myself, it's also a sort of pilgrimage to pay respect to Serge's genius. The space itself is rather difficult to describe. An ornate spiral staircase dominates the center of the room and small counters display the perfumes along with the makeup collection. Every inch of the walls and ceiling is covered with intricate painted designs. The colors are what always strike me first – deep purples, pale lavender and blues of every shade that alternate based on the lighting, sometimes even venturing into burgundy territory.
What to Buy: If you want a single fragrance that represents Serge Lutens' style of perfume, you must try Féminité du Boi. It's dark, woody, spicy, with an unexpected flash of violet and his signature candied fruit. After testing as many perfumes as your nose can handle, treat your eyes to Serge's very concise collection of makeup. Each item was created with the same exacting standards and passion as his fragrances. We couldn't decide between Lip Color 1 (four vibrant reds) or Lip Colors 2 (four flattering nudes) but really, both are perfect.
Moving on… We left Serge Lutens and in the process of finding a taxi, stumbled into Francesco Russo's gorgeous shoe boutique where the very charming Francesco himself showed us his new collection. After a longer then usual shop visit (the combination of a stylish Italian and perfect nude suede stilettos is tough to walk away from), we realized we were famished. One of the delightful things about finding yourself hungry in Paris is that you are never far from an excellent repast of wine, bread and cheese. Then it was off to our next boutique, one that I had never been to before but Regina visits every time she is in Paris.
---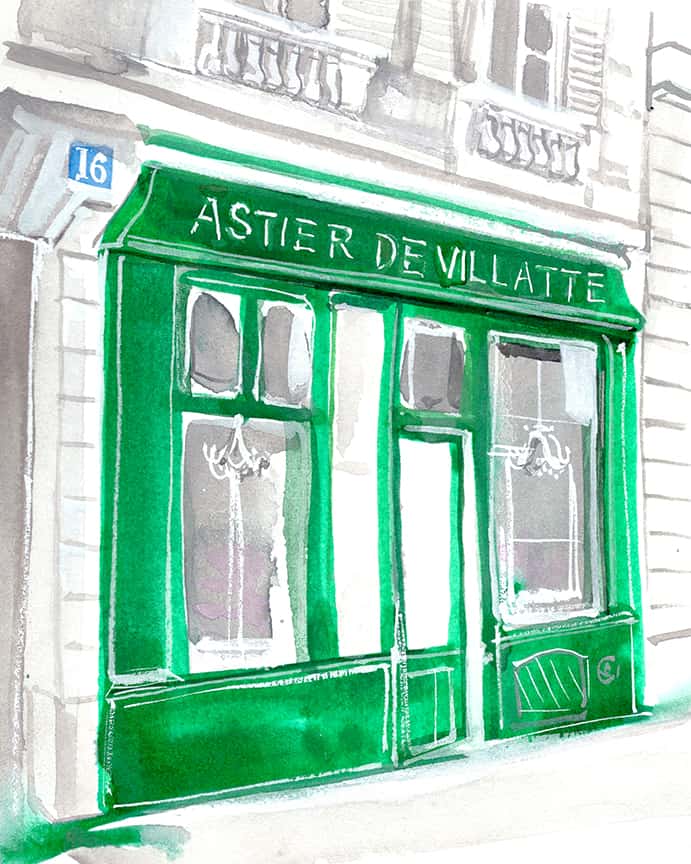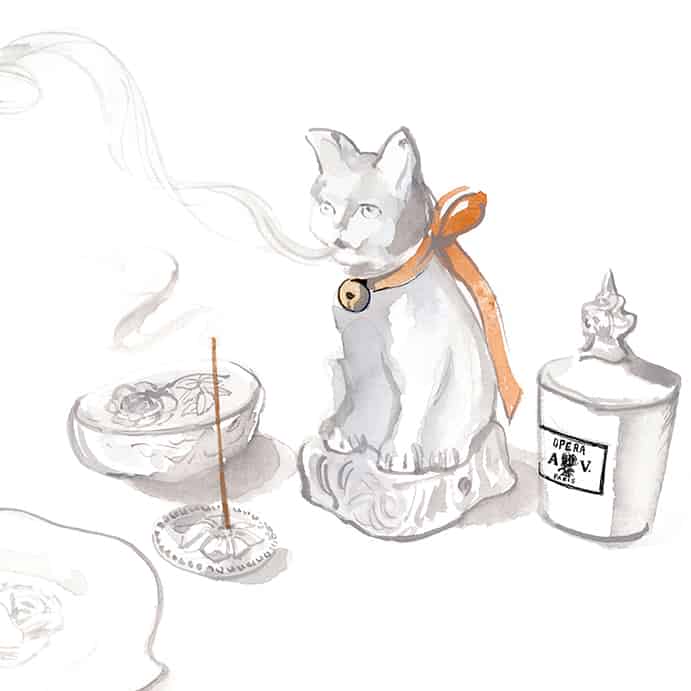 ASTIER de VILLATTE
173 rue Saint-Honoré
75001, Paris
Instagram
Website
The History: Although the delicate ceramics have an 18th century French countryside feel, Astier de Villatte was founded in 1996 by artists Ivan Pericoli and Benoit Astier de Villatte.
The Boutique: This wonderfully eccentric shop is housed in an eighteenth century building and specializes in delicate ceramics, flatware, incense, hand typed stationery, notebooks, special soaps and luxury candles – all in irresistibly pretty packaging. Every shelf holds unique treasures and no two items are identical. The ceramics are all hand made in a workshop in Paris's 13rd Arrondissement using black terra-cotta with a milky white glaze and feature lovely details such as raised leafs, kittens, floral motifs and decorative accents. It's impossible to walk out empty handed.
What to Buy: We couldn't resist the Cat Incense Burner and of course, the Encens Opéra to accompany it. Notebooks in multiple cover designs seemed like a necessity as well as candles in Opéra, Hollywood and Alger. Delicate ceramic plates with rose designs as well as bowls with a wonderfully organic bumpy texture, plus small decorative vessels that are perfect for holding delicate jewelry were among our top picks. Regina has been collecting pieces of their cutlery on each visit and so she picked up a few more pieces to complement her growing set. It's actually quite romantic to think her entire flatware set has been brought back piecemeal from trips to Paris.
Moving on… The next two boutiques that we visited belong to the same brand, the storied house of Guerlain. However they each offer a very specific experience and neither should be missed.
---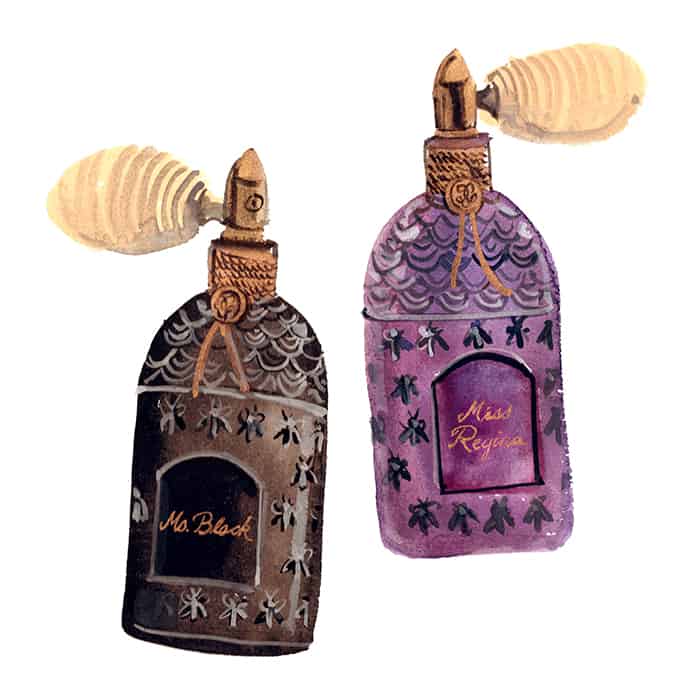 GUERLAIN
PERFUME BOUTIQUE
392 rue Saint Honoré
75001, Paris
Instagram
Website
The History: In 2016, Guerlain opened a new boutique dedicated exclusively to perfumes.
The Boutique: A chic, modern location with over 100 Guerlain fragrances on display along with a digital perfume organ, gorgeous floral arrangements and centuries of Guerlain heritage. However the real reason to visit is the very exclusive custom Bee bottle experience. As you enter the boutique, to your right is a small room with black walls and shelves that hold iconic Bee bottles in a variety of colors. Smartly dressed ladies will graciously assist you in choosing a colored Bee bottle along with the type of ribbon, barbichette (the silk thread that fastens the seal) and will even personalize it with your monogram or name. Then comes the fun part… you get to select from a collection of Guerlain's most precious perfumes and watch as your custom bottle is neatly hand filled from a beautiful glass decanter. The experience is sublime and one that no perfume lover should pass up.
What to Buy:  A custom Bee bottle! Regina chose Shalimar in a royal purple bottle with "Miss Regina" emblazoned on the side. I went for a black Bee bottle with my beloved Cuir Beluga and "Ms.Black" in gold letters. It's also worth noting that the accommodating staff is quite knowledgeable about their perfumes and is happy to make intelligent recommendations, to offer small samples or for the more glamorous types, to spritz your scarf with a scent. Speaking of scarves, Guerlain's silk masterpieces make perfect gifts or in my case, an addition to my collection.
---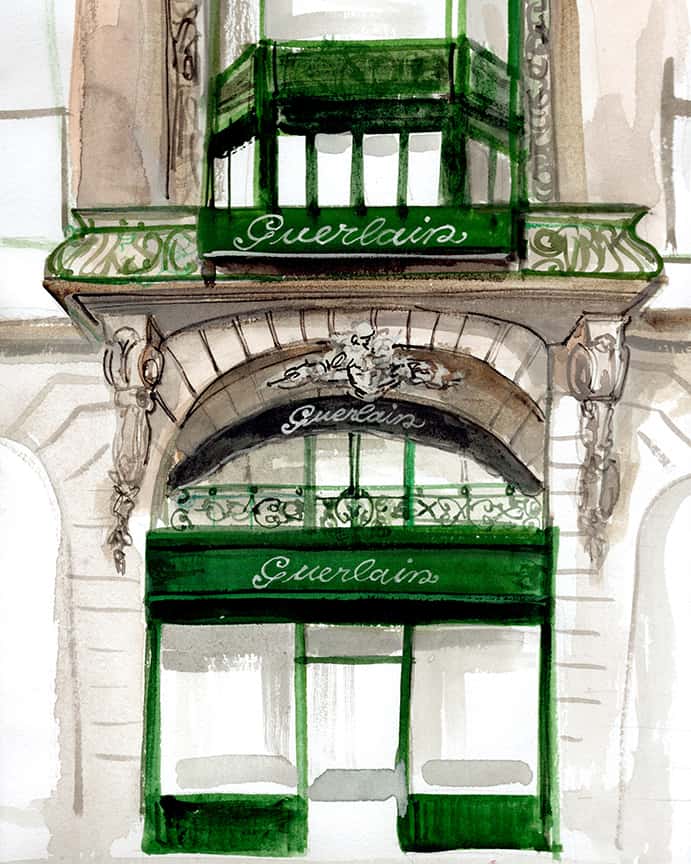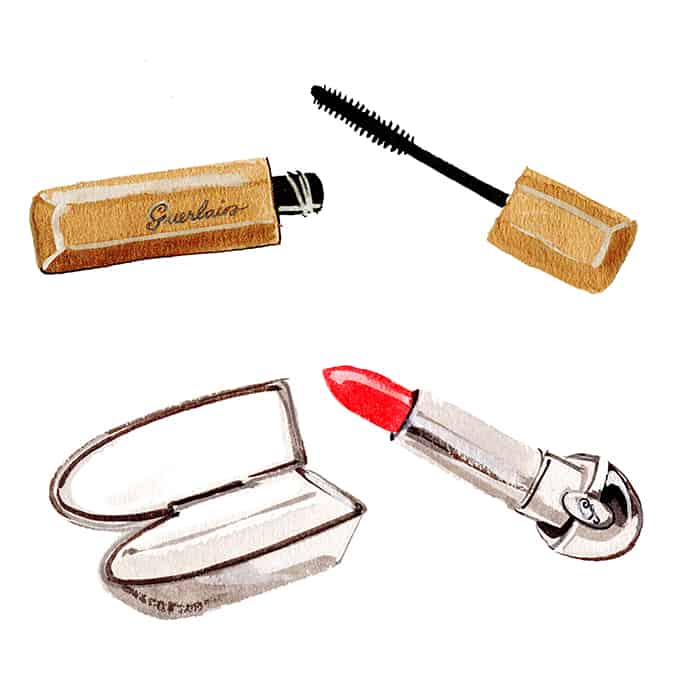 GUERLAIN
68 Av. des Champs-Élysées
75008, Paris
Instagram
Website
The History: Declared a French National Monument, this legendary address has been home to the Guerlain boutique for 103 years and was originally designed by architect Charles Mewès (he also designed the Ritz Hotel).
The Boutique: Although renovated around four years ago by American architect Peter Marino, all the historical fixtures are still on display and the feel is decidedly Guerlain. It's an updated, more energetic version of the brand but still very Parisian and very luxurious. The large boutique (it expanded significantly during the renovation and even includes a restaurant) features perfumes, skincare and makeup as well as seasonal gifts. For those in the know, tucked away upstairs past all the gorgeous displays is the L'Institut Guerlain, a private haven for bespoke beauty treatments.
What to Buy:  It's difficult to chose from the extensive selection of little luxuries but you should definitely take home a tube of Rouge G de Guerlain. The lipstick formula and scent are lovely but really, it's the impossibly chic mirrored case that is the main attraction. I opted for Garconne, a strong cool toned red. Regina likes the sculptural tube of the Maxi Lash Mascara and we are both fans of their cult favorite bronzers. Of course, if you want to stay classic, nothing says Guerlain quite like the famed Météorites Pearls of Powder.
---
Of course, Paris has many beauty destinations and these are just a few of our favorites. I suppose that means we will just have to make another trip. À bientôt Paris!