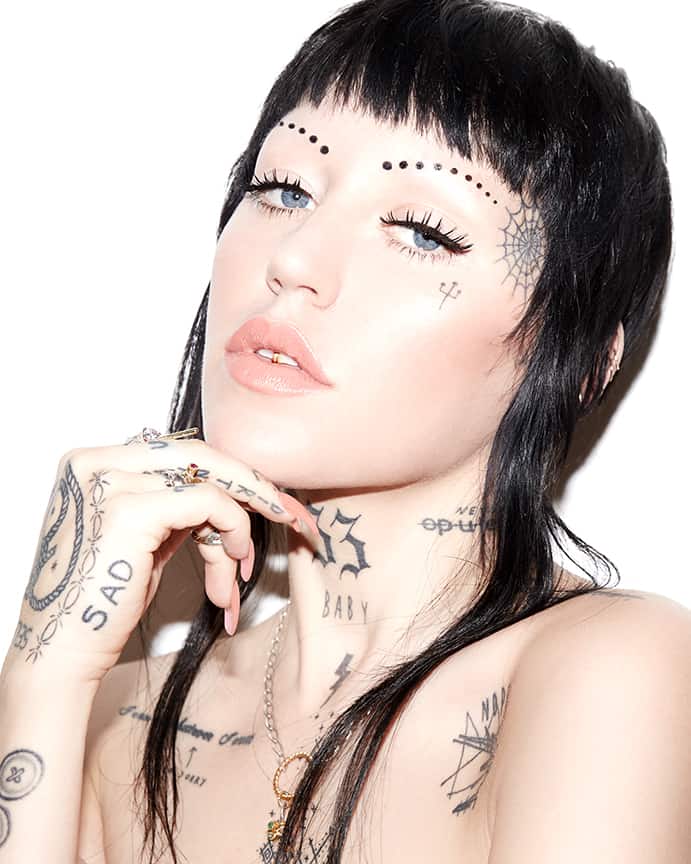 Brooke and I finally managed to find a day where both of our schedules were clear! It doesn't sound that complicated but between her recording sessions, travel and performances plus my photo shoots, travel and various work obligations, it's been months since we have been able to get together! One of my favorite things about Brooke is that she always shows up with a new look. This time she arrived at the studio with several new face tattoos, shaved brows and black hair (a dramatic difference from her previously platinum blonde).
Brooke does a lot of dramatic makeup on stage (which I love!) so when she visits, I always want to do something completely different. Taking inspiration from the three tattooed dots in the center of her brows, I simply continued the shape with more dots. A pair of spiky fake lashes, peachy nude lips and cheeks with glowing skin completed the minimal makeup look.
Note: She is performing live in Sao Paulo, Brazil on February 3rd as well as at the Crofoot Ballroom in Pontiac, MI on the 22nd.  Check out her Instagram for more upcoming dates and ticket details!
Note: For past looks featuring Brooke Candy, click here, or here, or here, or here!
MODEL // Brooke Candy
MAKEUP // Robin Black