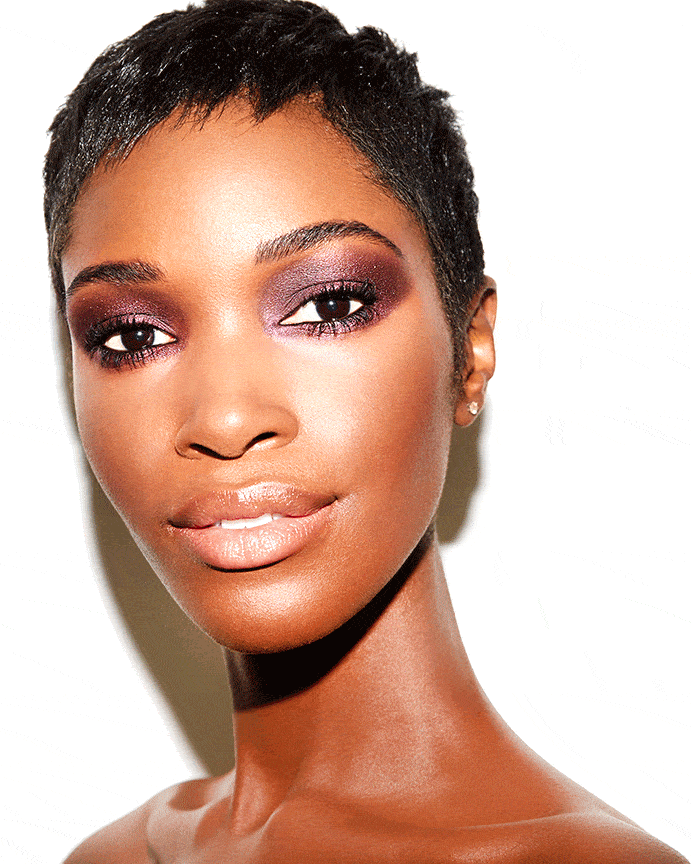 Tis the season for non-stop events that range from office gatherings and family dinners to neighborhood bar hops and late night parties. Luckily the Bobbi Brown Holiday Collection has everything you need to navigate your nightlife with panache. While red lips are classic for the holidays, I wanted to do something a bit different so I created a glamorous party look featuring shimmering amethyst eyes. Simply switching up the lip transforms the look and makes it perfect for a wide variety of this season's events!
STEP 1 – SKIN
To create Shae's glowing skin, I began by smoothing out her complexion using the Skin Foundation Stick in Espresso. I blended Pot Rouge in Chocolate Cherry onto the apples of her cheeks to add a subtle flush (I added more in the look with the dramatic lip color for balance), then dusted her face very lightly with Sheer Finish Pressed Powder in Warm Chestnut. As a finishing touch, I applied Highlighting Powder in Moon Glow to the high points of her face, neck and collarbones.
STEP 2 – EYES
Although the eyes look dramatic, this is actually a very simple style to create. I started by blending the deep burgundy shade from the Caviar & Rubies Eye Shadow Palette from Shae's lashline to just above her crease. I continued it around the outer corners and under her eyes, stopping short of the inner corners. Once I had the shape correct, I applied a coat of the Luxe Eye Shadow Rich Metal in High Octane (a gorgeous deep metallic amethyst) directly on top and blended it over the edges to just under the brow. To create a shimmering ombre effect, I added another layer to the inner half of the eyes. For some extra va va voom, I used Gel Eyeliner in Pitch Black in Shae's waterline (all the way around the eye) and finished with two coats of Lash Drama Mascara.
STEP 3 – BROWS
With so much excitement happening around the eyes, it's best to balance with groomed but natural looking brows. I filled in lightly with the Perfectly Defined Long-Wear Brow Pencil and then swept on the Waterproof Brow Shaper to define the hairs.
STEP 4 – LIPS
In the first look, I wanted Shae's gorgeous natural lip color to shine through so I applied a light coat of Crystal Lip Gloss. This is a great option for parties and events where you will be eating since it's super easy to touch up!
For the second look, I wanted to bring the drama so I applied several coats of Luxe Lip Color in Your Majesty. For longer lasting color, I paint on the first coat, blot until it's matte, then paint on a second coat. And while it's fine to apply directly out of the tube, I prefer to use a brush for super precise lines.
Note: The holiday palettes make such cute gifts, I have already snapped up a few!
MODEL // Shae Butters
HAIR // Sheridan Ward
MAKEUP // Robin Black