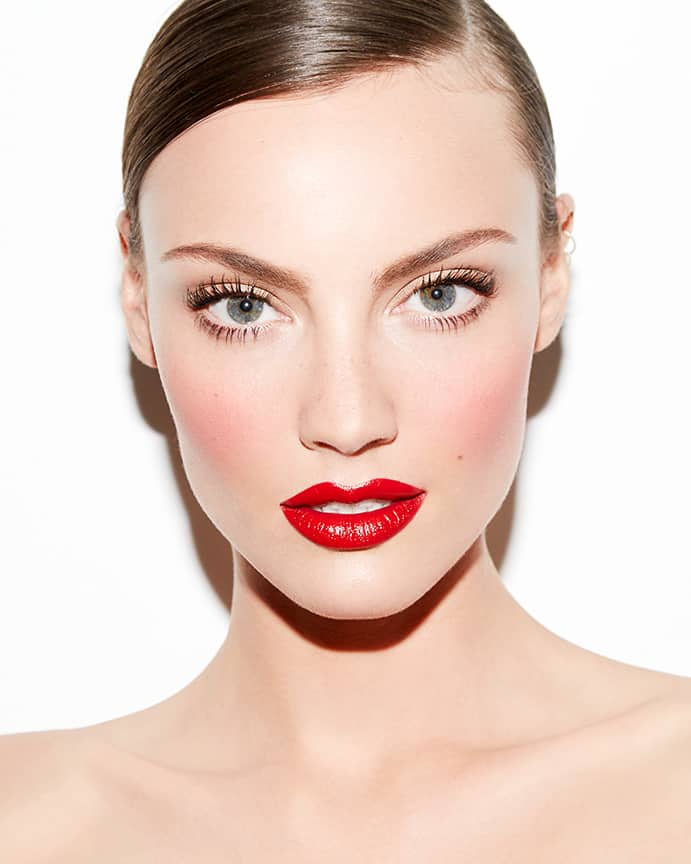 Here is another image from our recent tutorial video collaboration with Marc Jacobs Beauty. This look features the Volumizing Glow using the new Marc Jacobs Beauty Air Blush in Kink and Kisses.  It's a simple draping technique that adds youthful volume and a pretty flush to the face.  If you haven't already seen the tutorial videos, please click here to view them.
Note:  "Draping" is a term for contouring and adding dimension to the face using blush.  It was inspired by the godfather of modern makeup, Way Bandy.
HOW TO CREATE THE VOLUMIZING GLOW:
1. Start by blending the two shades of the Kink and Kisses Air Blush palette together using an angled blush brush.
2. Then apply the Air Blush to the apples of your cheeks, blending upward and back toward your hairline.  If you want a more dramatic look, after you have finished blending, tap a tiny bit more color right in the center of the apples.
Tip:  If you are unsure about where the apples of your cheeks are, look into a mirror and smile! The rounded parts of your cheeks that become more pronounced when you smile are the "apples".
MODEL // Samie Robinson
MAKEUP // Robin Black
HAIR // Bobby Eliot