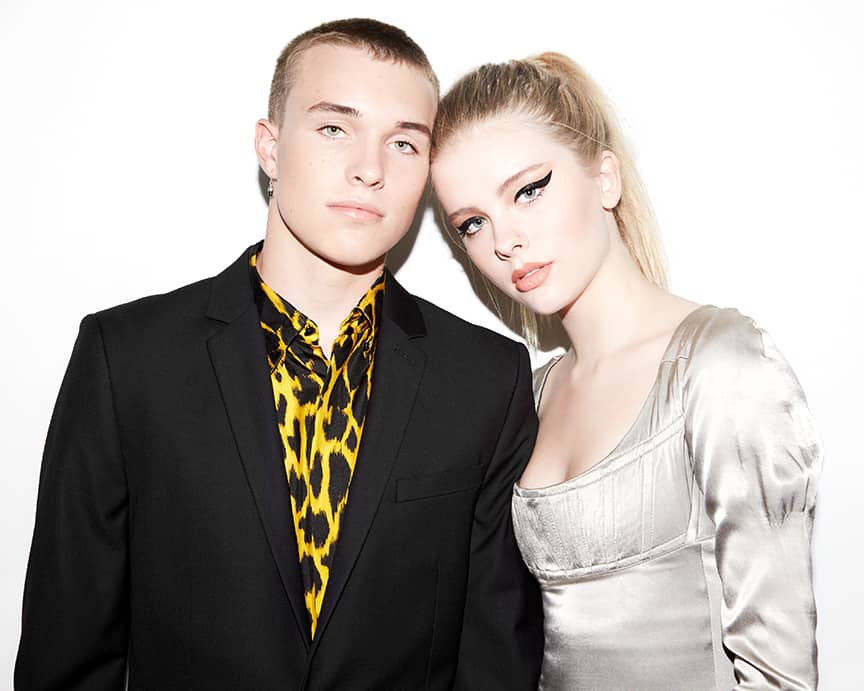 I don't do much event makeup these days but I just couldn't resist Ella Flood's Prom. Ella is a model and high school senior who I shot last year for Beauty Is Boring along with her mother Jenny Brunt (also a model). A few weeks ago, Ella reached out for some beauty advice for her upcoming prom but rather than give advice, I offered/insisted on doing her makeup.
Ella's boyfriend Gabe Le Neveu joined us in the studio and also played DJ with a brilliant selection of 80's/90's music. They showed up with matching nail polish, a vampy, almost black shade and both did their own hair. I loved that Ella just flipped her head upside down, spritzed on some hairspray and then threw it all up in a pony tail… they are basically the coolest kids ever.
Ella wore a gorgeous vintage Vivienne Westwood gown in a neutral metallic shade that she found at a thrift shop so we were inspired to do something with a touch of punk. I started with a nude shimmering eyeshadow swept from her lashline to just under her brow, a touch of pale golden bronze under her cheekbones and a peachy base shade (using lip liner) with a sparkling golden gloss on top for a "more exciting than nude" lip. Our tribute to Vivienne's punk spirit came in the form of an exaggerated black cat eye and loads of black clumpy mascara.
Gabe was one of the best dressed prom dates I've ever seen in a slim, black Top Man suit and a vintage Versace shirt. The saturated leopard print Versace (genius!) actually belonged to Ella's dad, well known photographer Don Flood. The silver and lapis earrings were a sweet gift from Ella. Young love… sigh. As far as grooming, Gabe is already incredibly handsome so all that was needed was a touch of concealer, lip balm and some tinted brow gel.
Note: Congratulations to Ella for being accepted into a prestigious art college! You can see some of her amazing paintings and illustrations on her Instagram.
Note: You can view Ella's previous Beauty Is Boring posts by clicking here and here.
MODELS // Ella Flood, Gabe Le Neveu
MAKEUP // Robin Black