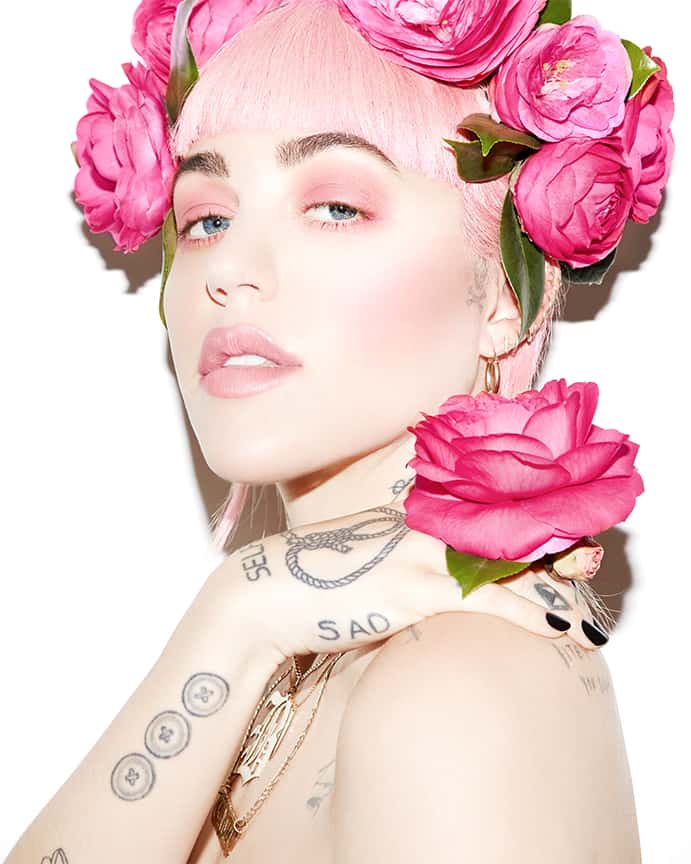 I love collaborating with musicians so when Brooke Candy first reached out about doing a shoot for Beauty Is Boring, I was absolutely thrilled! Her visuals are always stunning and she has a chameleon-like look that works with almost any makeup style. I was also just really curious to meet her.
Brooke did not disappoint. It was such a pleasure having her in the studio, our whole team fell in love. She is not only incredibly creative and inspiring to work with but also a genuine, kind, thoughtful woman who is going through a sort of personal renaissance. Her music is evolving, her image is evolving, she is evolving and it's an exciting thing to see.
And that is why I wanted to create a look that was totally different to anything Brooke has done in the past.   Subtle washes of the prettiest pink and groomed brows, very minimal and rather romantic.  Midway through our shoot, Ryan (who is a brilliant hair stylist) wandered off with a pair of scissors and came back with a bunch of camellias from my garden which he used to decorate Brooke's hair.  It's always the most fun when everyone in the studio is inspired, click here to see Regina Yazdi's videos of her illustrating the looks during our shoot!
Click here to watch Living Out Loud, Brooke's new video featuring Sia!
Note: Early in my makeup career, most of my paying clients were musicians. The best part about working with them (aside from free concerts!) was their willingness to experiment with outrageous looks.
MODEL // Brooke Candy
MAKEUP // Robin Black
HAIR // Ryan Taniguchi